New Curved Components make Medtronic BACO a Hit
The Medtronic stand at BACO was a resounding success, what makes this all the more remarkable was that the stand was designed and built in just 6 weeks, and managed to get past the French blockade at Calais.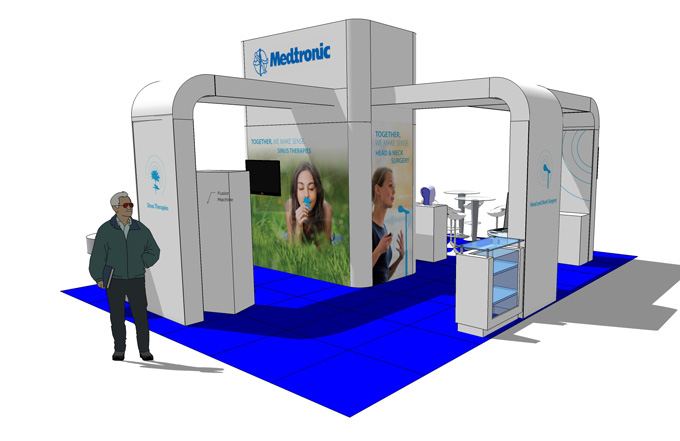 Our story starts with the arrival of a new marketing person at Medtronic, who with just 8 weeks to BACO is given the task of looking after the exhibition, the first two weeks are lost due to holidays – After meeting up with the client we came up with a design that meets the brief, estimates are done and submitted – after a week of tweaking the design we get approval.
5 Weeks to go, we order the new curved items from Aluvision in Belgium, these new items are compatible with our existing BeMatrix stock items.
4 Weeks for delivery. We order the carpet and the new edging. We order the extra flooring we need to make our deck up to 48sqm. Week 4 we finalise the counter design and specification and commission these items from a local stand contractor.
3 Weeks to go and we get the new approved graphics and we send these off to print. We need the new aluminium panels from Belgium before we can complete the graphics on the other panels, but we organise this with the supplier and book 3 days to complete the work.
2 Weeks to go and we have checked the counters and the carpet and edging arrives. along with some new BeMatrix kit to create the large 2480mm Square graphic panels.
1 Week to go and we hit a snag – the truck with all our new components and the aluminium panels is stuck in the French blockage of the ferry ports in Calais, with no ETA. Hats off to the enterprising driver and haulage company – he realises that he is not going to get on the ferry and books the truck on Eurostar after queuing with over 400 other trucks he finally makes it to the UK and we get our delivery at 6pm on Tuesday night.
Julie and I are onsite at 8am on the build day with Tom, Phil and Joe and although its a long day – we finish at 9:30pm the stand looks great – and apart from some last minute cable issues everything works.
Client is delighted, her bosses are happy, we are back in at 7am on the show day and sort out the new cabling – we sign off the stand at 12:30 and head for home – back in 2 days to take it all down.